The University of Toledo's Student Rec Center came alive with the excitement of table tennis enthusiasts as Juice House, in collaboration with the UToledo Table Tennis Club and UToledo Rec Center, hosted the inaugural 2023 UToledo Table Tennis Invitational. The event, which took place on Saturday, April 15, 2023, brought together teams from Cleveland State University, Miami University, Michigan State University and Oakland University for a day of friendly competition and good sportsmanship.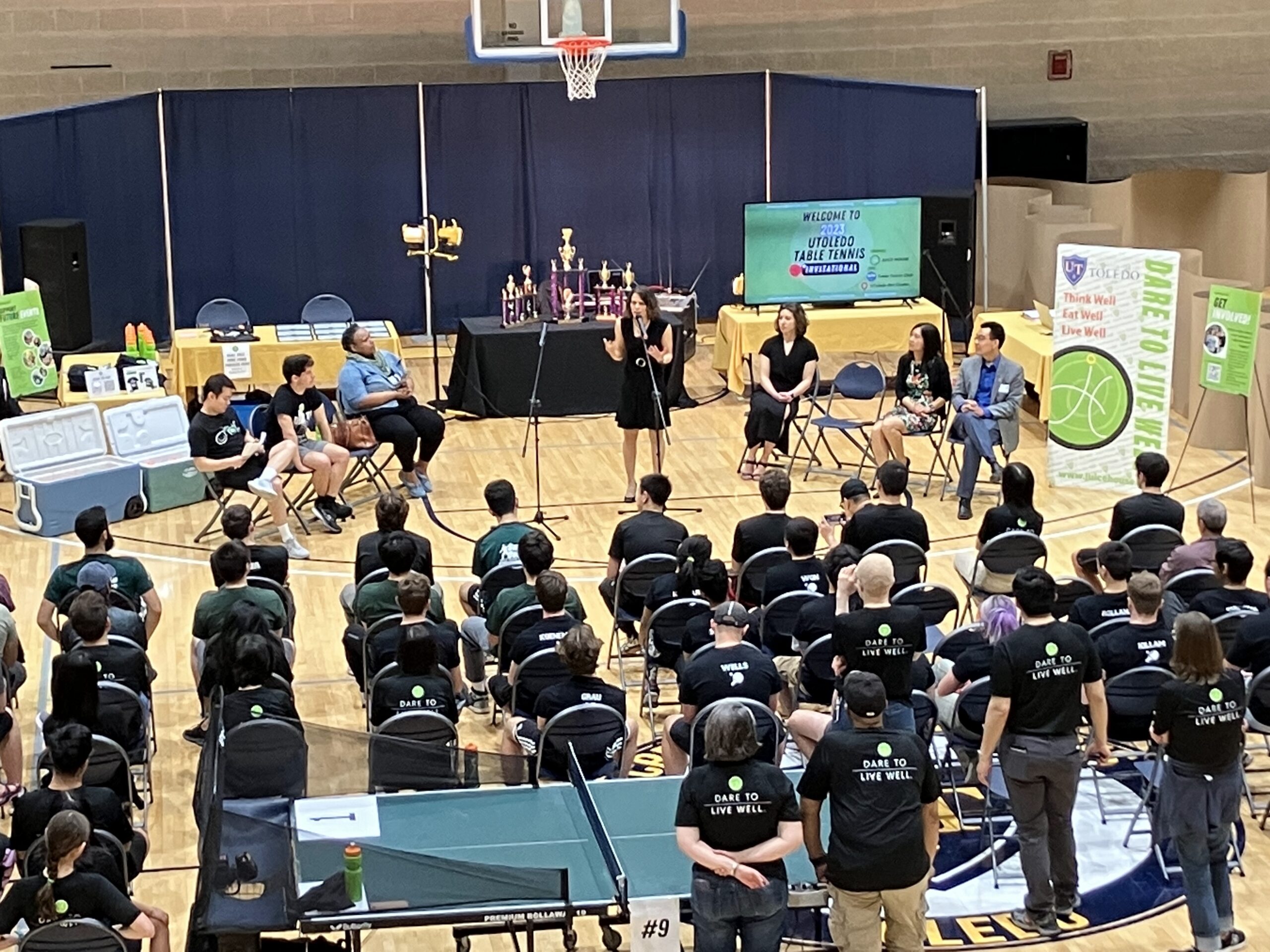 With over 18 teams and 50 players participating, the tournament was a resounding success, transforming three basketball courts into an epic tournament area, complete with a Robo-Pong, upbeat music and an awards stage.
Valerie Simmons-Walston, Special Assistant to the President for Community Engagement and Strategic Partnerships, opened the event by acknowledging the physical transformation and energy of the Rec Center.
"I have never seen the Rec Center transformed as it is today … not just by the [table] tennis equipment that you have here, but also the energy — there is an amazing energy in this room today," she said.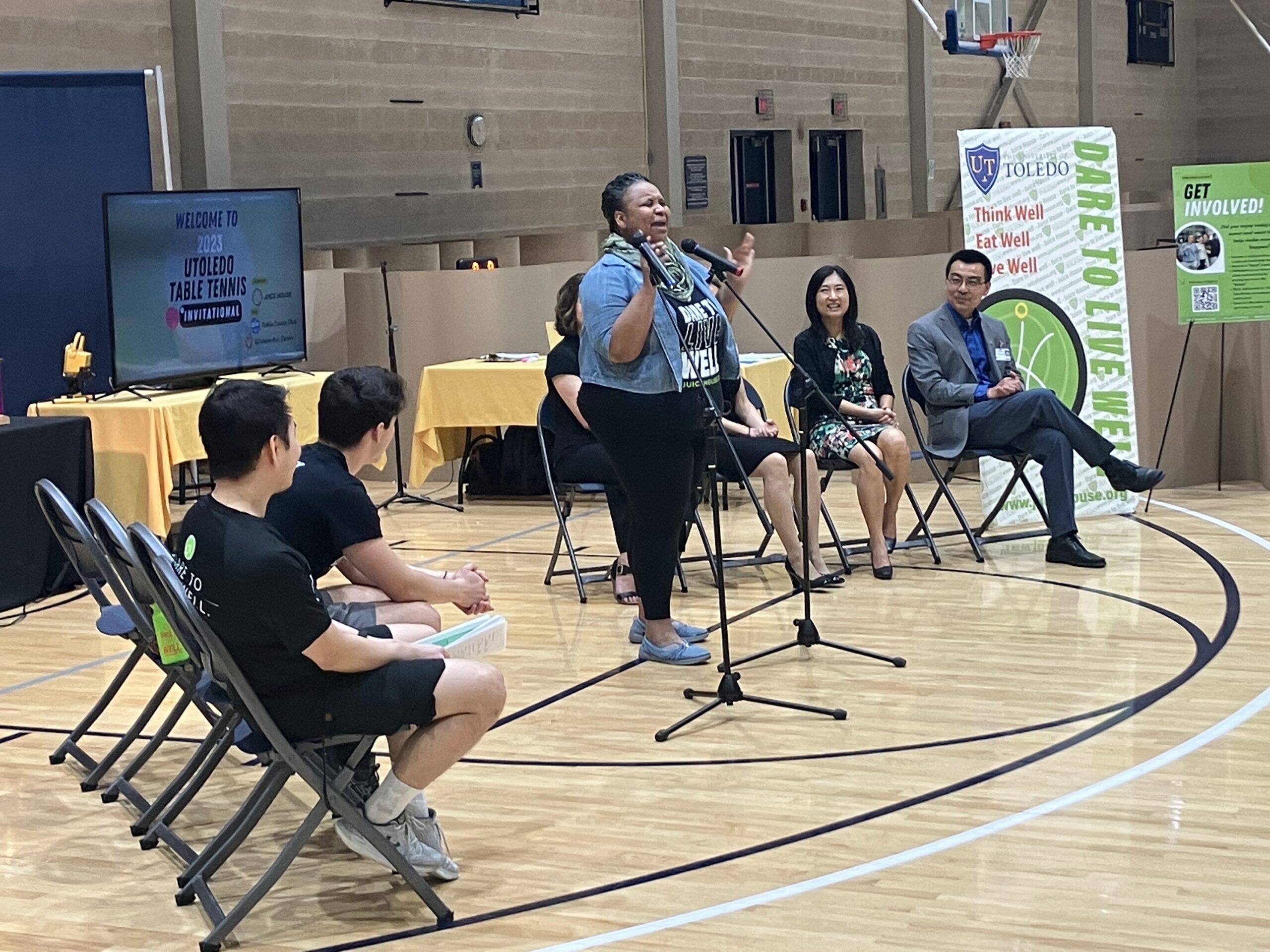 The energy driving the invitational was an expression of Juice House's mission and the support from the UToledo Table Tennis Club and Rec Center. Lauren Uhrman, one of the co-founders of Juice House, highlighted the organization's values in her opening speech.
"We foster a healthy, inclusive and people-centered ecology for all of the students on campus … to have an enriched college experience," she said.
Simmons-Walston also noted the impact of those values on student and campus life.
"Just think about the power of this event — "dare to live well," dream big — we are supporting well-being today, and I could not be more excited to be a part of this event and I hope that I can be a part of this event moving forward," she said.
Among the five teams competing at the event, the highly anticipated Best Overall Team Award was presented to Michigan State University, while the Doubles Tournament was won by Jason Zhang and Ziyue Lei from Miami University, and Xulei Yang from Michigan State University was crowned the Singles Tournament winner.
But the invitational also featured unique and fun competitions: Michigan State University was honored with Best Doubles Team in Team Match Play, Skills Challenge Winner and Most Spirited Team awards, while Miami University received the Best Singles Player in Team Match Play and Most Punctual Team awards. UToledo had the most team representation, and won the Team Sportsmanship award after providing some of their players to other teams who had absences.
"It was a lot of fun…I give big thanks to my team for going on to the other players' teams." David Hershey, president of the UToledo Table Tennis Club, said.
Although the day was filled with talented players and tense matches, the invitational wasn't just about competition. Participants had many opportunities throughout the event to mingle with students from different universities, foster new connections and build camaraderie. The free-play area, which was open to the public, was buzzing with energy and merriment, providing a welcoming and inclusive atmosphere for players and spectators alike.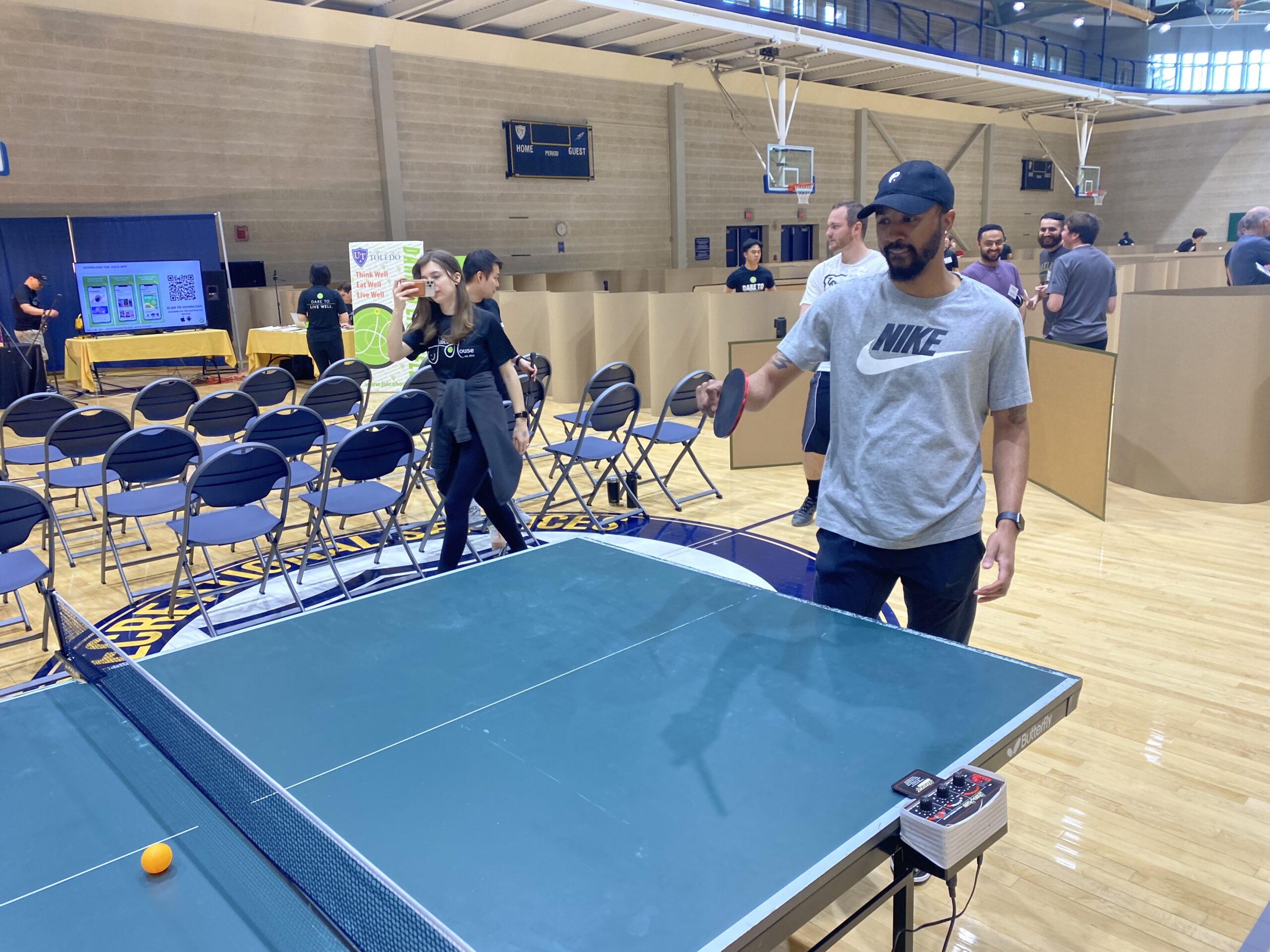 At lunchtime, the Maple Room in the Rec Center was bubbling with laughter and conversations, providing an opportunity for students to "blend" with each other along with Juice House members. Lunch was served by Juice House's community and student members and featured pizza, salad, cookies and iced tea. The meal was provided by Juice House with contributions from Dr. Sammy Spann, VP for Student Affairs, on behalf of UToledo.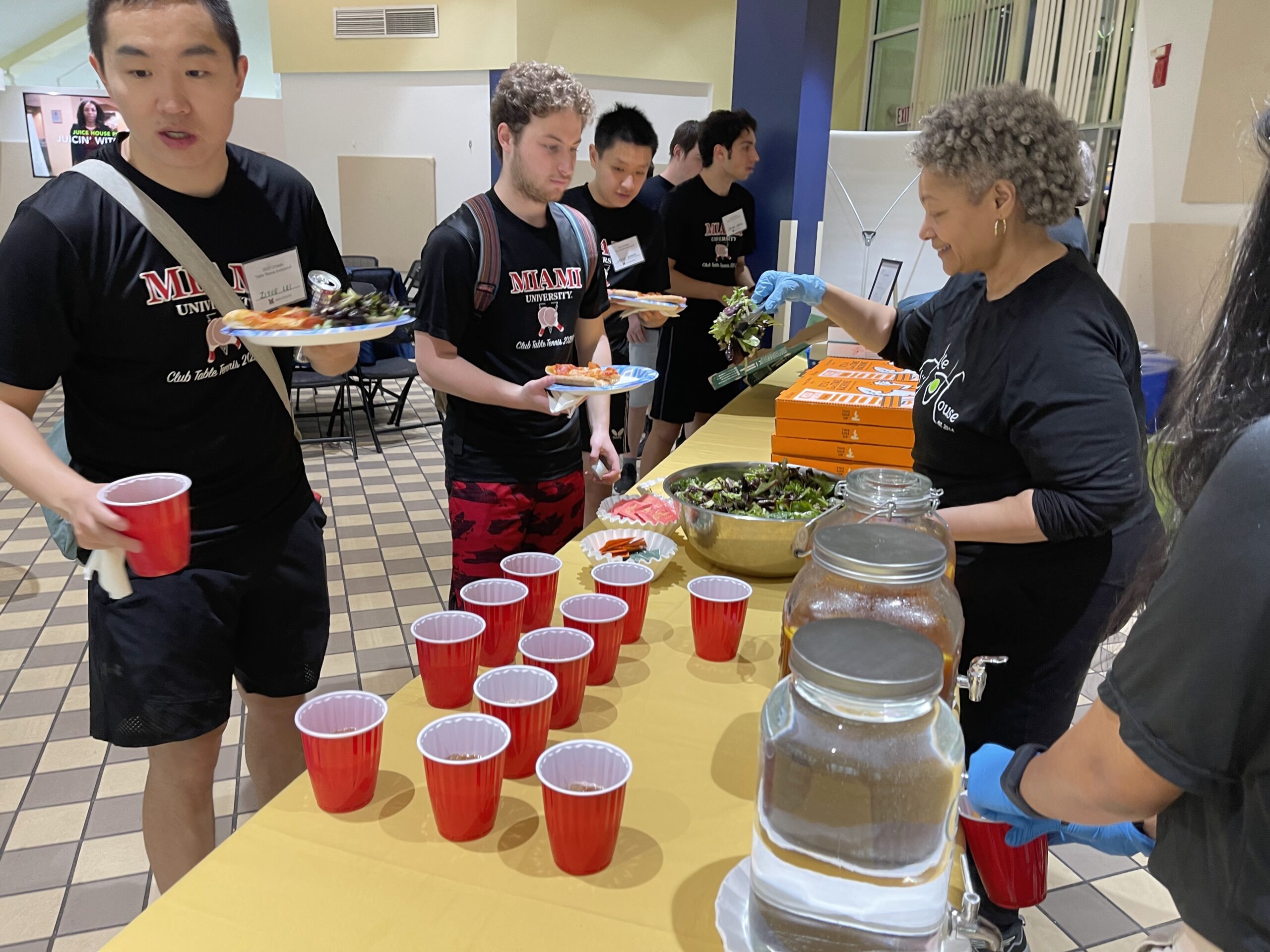 In between matches, students and community members could be found viewing the exhibition presented by Juice House in the main lobby of the Rec Center. The exhibition provided highlights of the current Juice House programs for enriching campus experience, as well as their mission and vision for the campus. With over 40 special "blends" to choose from, students were able to sign up for various activities according to their specific interests.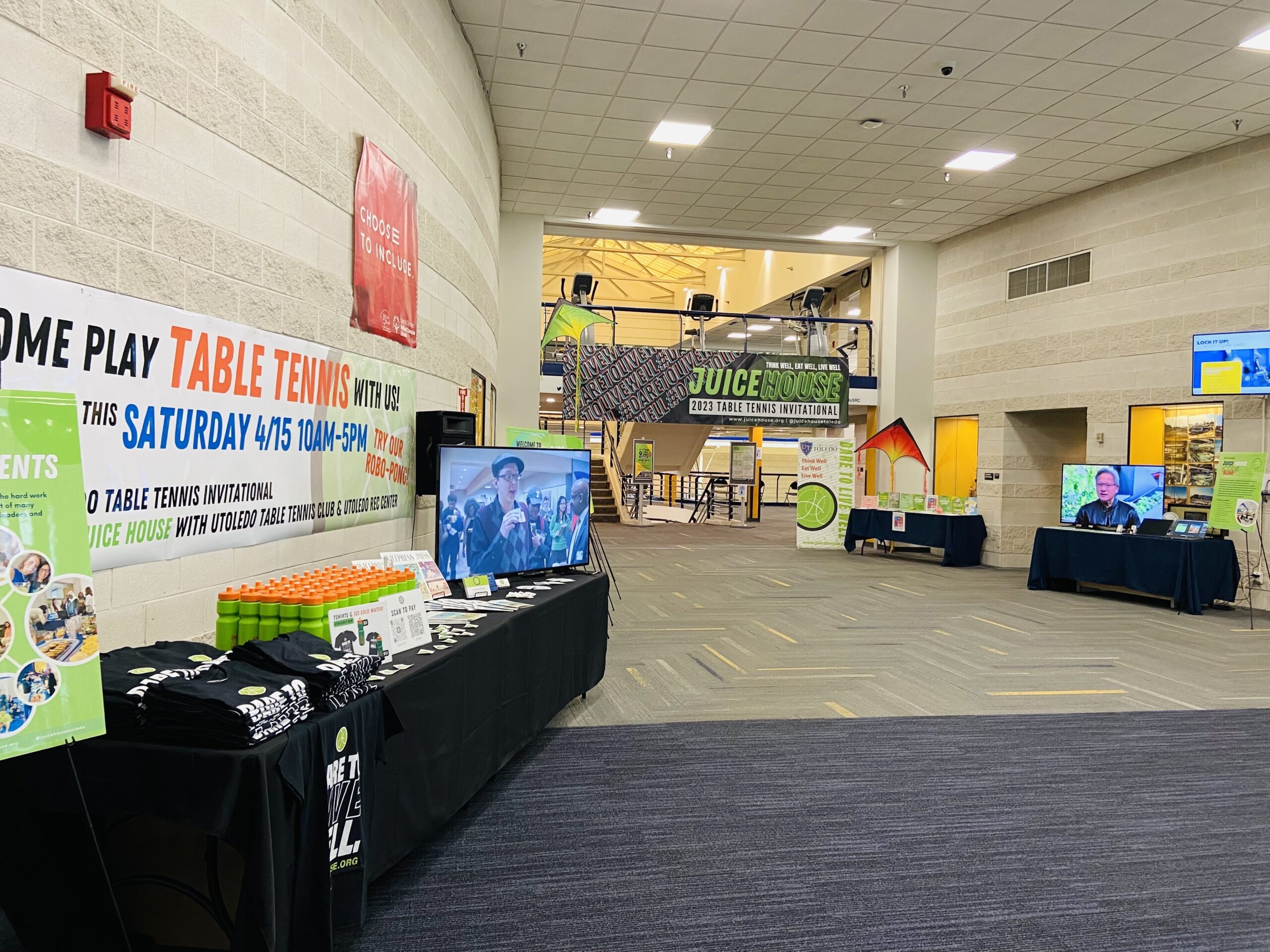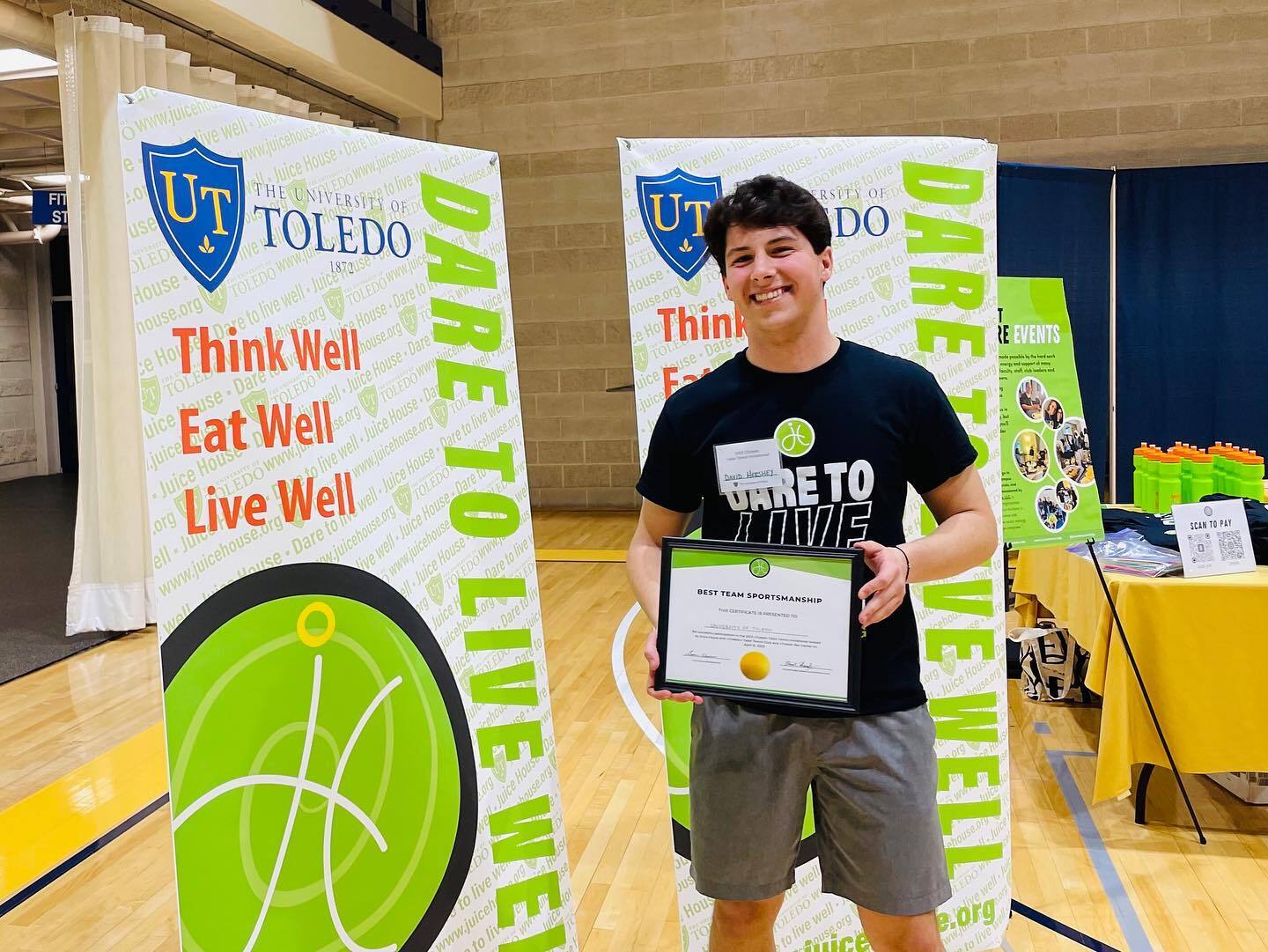 At the closing awards ceremony, special thanks were given to the UToledo Table Tennis Club and UToledo Recreation Center for the coordination and facility resources to host the event. Dr. Scott Molitor, Vice Provost of Academic Affairs and acting Dean of Graduate Studies, gave the closing remarks for the tournament.
"What a remarkable group doing some excellent [work] promoting well-being for our students," he said.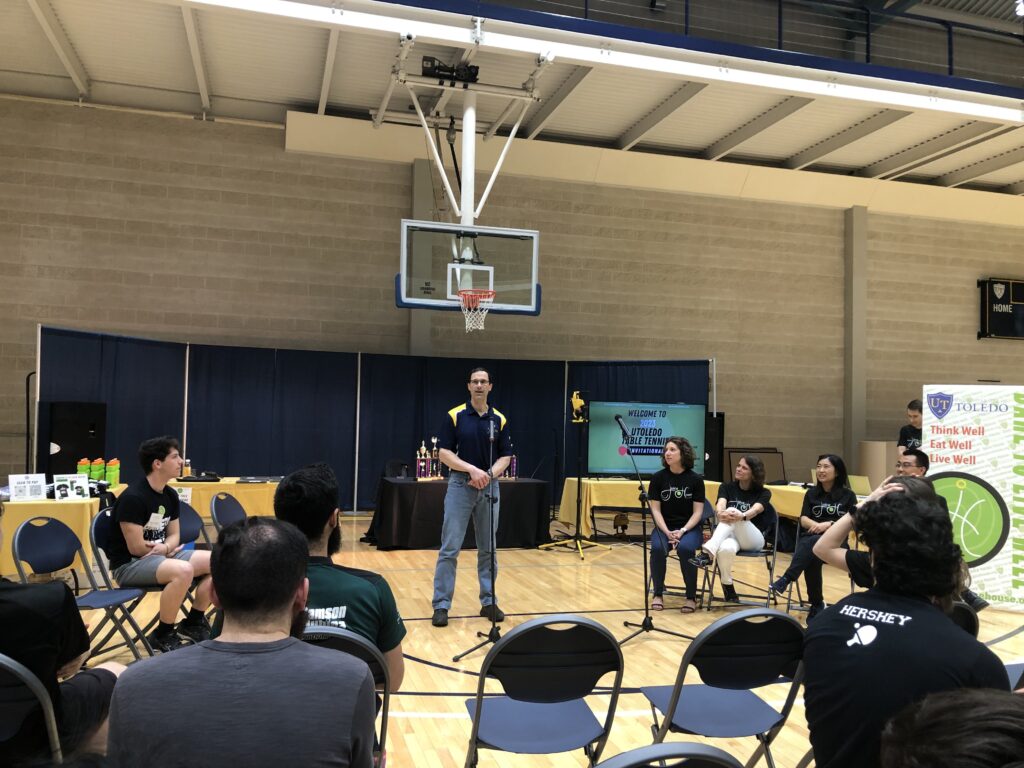 The UToledo Table Tennis Invitational is one of many ongoing initiatives through Juice House to build future collaborations at UToledo and campuses across the region.
"Eventually, we want Juice House to be replicated on other campuses," Uhrman said.
Anna DiAsio, a Juice House adviser who served as the program host for the event, affirmed this vision, saying, "We do hope that it will become an annual [event]."
The inaugural UToledo Table Tennis Invitational was a true celebration of regional collegiate engagement and a vital and colorful college experience. Stay tuned for other upcoming programs from Juice House in the coming semesters!